From Monday to Thursday most men working in office, wearing suit will stick with their classic pair of Black Cap Toe Oxford shoes. Simply because it is the safest choice for a formal business shoes in environment where formal shoes are expected to be seen. Regarding how to define the formality level of your footwear, please refer to the following criterion:
The perforations: the less perforations you would find on the upper, the more formal is the shoe.
The colour, the darker the shoe, the more formal. For the purist the old British adages: « No Brown after 6:00 » and « No Brown in Town » still prevail.
The model of the shoe, an Oxford, Side Gussets, Monk, Loafer and Derby.
The texture (from most formal to less formal): Patent calf (to be worn only for evening formal dress such as Tuxedo or White Tie), Smooth Calf, suede Leather, Gained Calf, Zug Leather
Bonus criteria: A plain front shoe will be considered more formal than one with a Toe Cap, itself more formal than a Wingtip. The thickness of the sole can also be a good indicator, the thinner the sole, the more formal the shoe.
Although you can find sleek black Derby shoes that look incredibly elegant, notwithstanding black Oxford shoes remain the safest footwear to sport in formal and business formal circumstances.
We always recommend our customers for their first pair to go with Black or Dark Brown Cap Toe Oxford as it is a fantastic business shoes and if high shined can be worn for formal events (Wedding, ball, Opera…) as well.
We recommend two Cap Toe model:
Our first model is from Carmina, a family business based in the city of Mallorca, Spain since 1866. The pair features a Balmoral pattern and is made on Simpson last looks very elegant, with its soft-square Toe.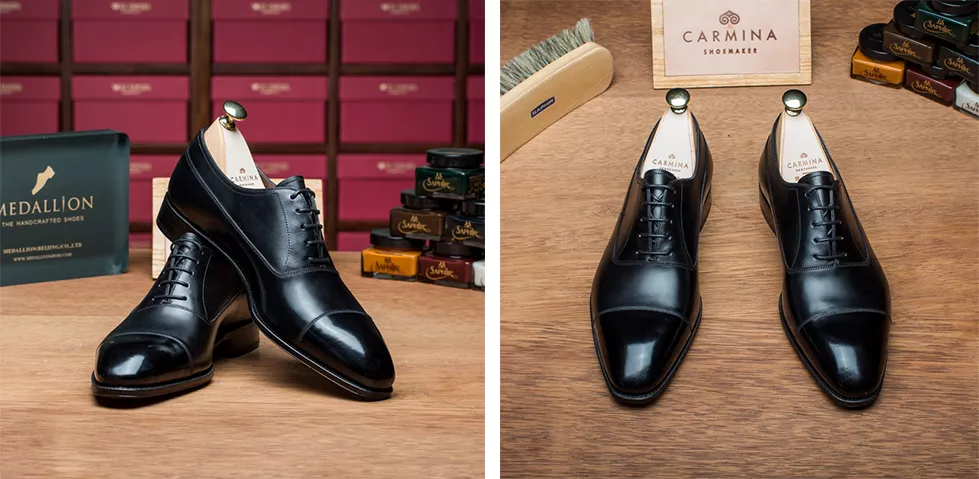 A second model we recommend you go for if seeking a classic Cap Toe Oxford is from the Hungarian Budapest shoemaker, Vass Cipo. The Old English I has been made on the F last which is probably their most classic and comfortable last.
With its Round Cap Toe, well balanced last and comfort this model will certainly become a staple of your wardrobe.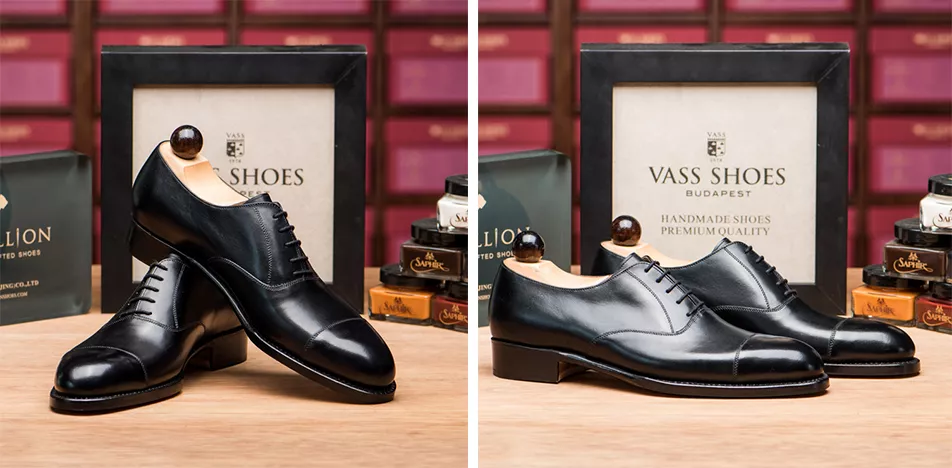 With Casual Friday getting more and more accepted in offices, we highly recommend that you go for something that would feel more comfortable, in a colour such as Dark Brown, that you would pair with a pair of flannel trousers and tweed jacket.
A pair of Loafer shoes, a pair of derby shoes, or a pair of Monk shoes can be great choices for your Casual looks.
Here is a pair of our Vass Double Straps Monk made on the F last. As we always recommend our customers to go for footwear that are versatile to wear and could match as many pieces of clothing their wardrobe contains, a pair made in Dark brown colour is a smart choice as it would blend as well with darker trousers as lighter shades.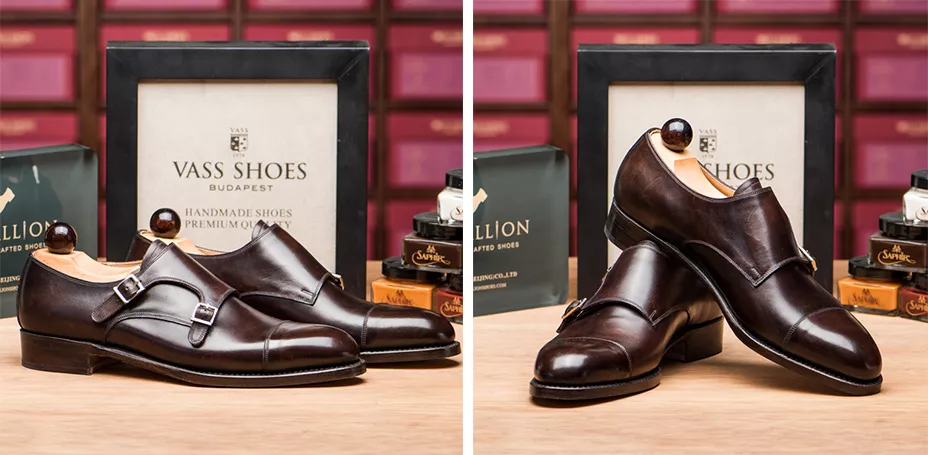 Our second option for a casual footwear is the Apron Derby shoe from made on the U last that is perfectly suitable for Friday wear.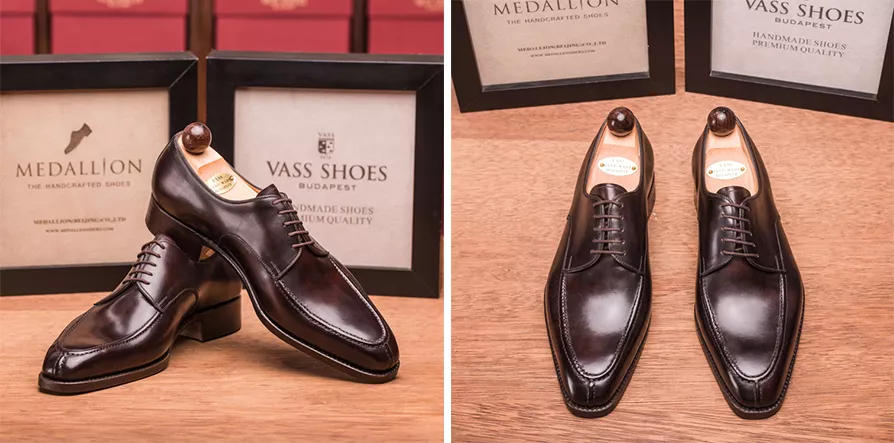 A fine pair of five eyelets Derby shoes, is one of the most needed shoes for men's wardrobe. This is the shoe from Vass. U last type is long and elegant. It is a very good choice for you to match all kinds of trousers.
During the weekend, it would be time for your feet to relax, then we recommend a nice pair of Loafer shoes in suede leather, as its softer leather and make it a perfect leisure shoe and an essential for week-ends.
The first of our leisure style we would like to recommend are pairs of suede Loafer from Carmina. Those classic Penny Loafer come in Dark Brown suede and Navy Blue Suede.
The Penny Loafer, became very popular as it was acclaimed by the students of Ivy League
Universities during the 60's in the US. This particular Loafer took its name from the students splitting Pennies under their Loafer strap. Those Pennies were then used by the students to call their family from University phone box. This iconic Preppy style shoe will look both smart and casual.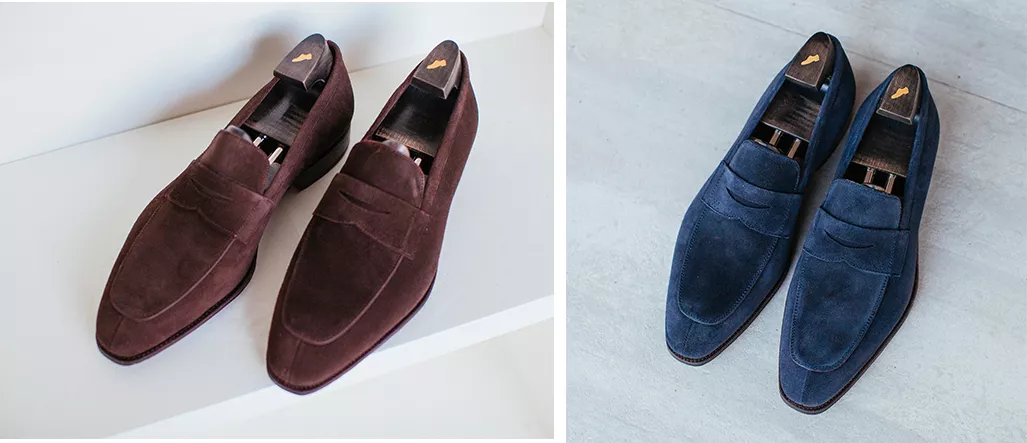 Our final recommendation is certainly one of our most casual style, however comes from a very classic craftsman Paolo Scafora from Napoli, Italy. Paolo Scafora has become famous among shoe aficionados thanks to its incredible patinas and meticulously hand-stitched Norwegian construction. Featuring a Vibram® sole, this cemented constructed pair feel super Soft and its Viram® sole really absorbs the shock when walking. Finally this model would probably be the perfect pair for week-ends to rest your feet in style.